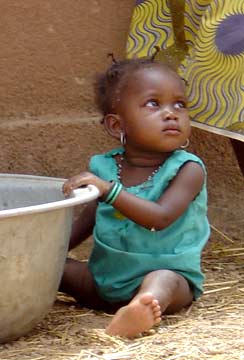 Emergency Africa
Green Cross at the Nobel for Peace Summit
Elio Pacilio
Executiv Vice-President
Green Cross Italy

The For win these emergencies we don't have to forget that we have to refer to all the citizens and urge their direct action. Do it in accordance with the possibilities and the opportunity of everyone.
Through the civil and democratic pressure toward the institutions;and in general toward the powerful,publics and private.Like this, with the obligation in oneself and through the instruments of the voluntary service and of the not-governative organization.
The topic of the water resources of the drink and safe water and of the basic hygienic conditions,is essential for every hope of future for the African society. There is the space and the duty for the initiatives that comes from lower. As follow we show you some of them that we realize.
The Initiative for water of the local and regional Authority, wrote in Bologna in 2003 by delegates of the civil society and of the local European administrations. Severals European regions have share with Green Cross the aims and targets:

Severals European regions are going in this direction; Italy, France, Spain and Sweden. The prevention of the possible conflicts on the use of the water resources for the trans-national basin is the second aspect that see occupied Green cross, with the Unesco collaboration. We have realized a first action beside the population and the institutions of the countries of the Okavengo's basin and Volta. But how forget that the Zambesi and the Senegal are esteemed between the basins trans-international more of risk of future conflicts? At the end there is the direct intervention with project on the field. In primis a project in Burkina Faso. " A hope for the Sahel", aimed at the restore of old wells and tanks how always happen, but with an innovation that concern in the get back, the sanification and the storage of the rain-water. The projects see the collaboration with the European Institute of Design of Milan and with the "Monticchio Gaudianello".All these and other interventions are possible and more meaningful if we have one element: the certainty of a legal international status on the right on the water's access. On this, Green Cross is occupied in one international consulting on the principles for one International Convention. The principles are approved by more of 1.100 delegates of 100 Ong all over the world, reunited in Barcellona in June on the 2004 in the World Cultures Forum. The 21st of April in United Nations, in hte 13th CSD, the initiative was showed by Mikhail Gorbaciov at the delegates of more of 100 states. Recently the President of the Italian Republic, Carlo Azeglio Ciampi adressed us a message of sharing and encouragement for this action, he wanted give a rel help at the undertakinf of all of us. We take also the opportunity for thanks him and for share with you the ammiration and the evaluation of what he is doing.

Elio Pacilio
Executiv Vice-President
Green Cross Italy