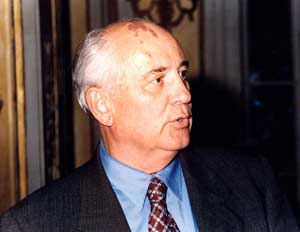 Gorbaciov for environment
The Green Cross Legacy of War Programme in Russia: Support for the G8 Global Partnership Against the Spread of Weapons and Materials of Mass Destruction (Kananaskis, June 2002).
I am delighted that Italy is actively participating in the G-8 Global Partnership to help Russia secure and eliminate its nuclear, chemical, and biological weapons and related systems. Green Cross has actively promoted threat reduction since 1994 through its "Legacy of Cold War Programme" and facilitates the timely, safe and environmentally-sound destruction of chemical weapons in Russia, the United States, and elsewhere.
It is already greatly to your credit that Italy, as part of its generous Global Partnership pledge of one billion Euros, has promised 360 million Euros for Russian chemical weapons destruction, 2004-2008, focusing primarily on construction of a destruction facility for the chemical weapons stockpile at Pochep, Russia's largest stockpile with 7,500 tons of deadly nerve agent, about 19% of the total Russian arsenal. Italy could play a crucial role in ensuring the timely and safe removal of this potentially lethal stock under auspices of the Chemical Weapons Convention by 2012. For this, I urge you to make the following two steps:
" Swift ratification of the bilateral agreement with Russia, signed 5 November 2003 to provide construction assistance for the Pochep nerve agent destruction facility. The planning process for the Pochep destruction facility is nearing completion. Construction, which Italy intends to support, must start in 2006 so that Russia can meet the Chemical Weapons Convention deadlines.
" Support for the outreach efforts of Green Cross' "Legacy of Cold War Programme," as part of the Pochep assistance. Green Cross already operates two outreach offices in the Pochep region funded by Switzerland and Sweden. These efforts however need to be expanded as construction and operations begin. The independent facilitation and mediation efforts of Green Cross are highly appreciated within Russia and the Global Partnership. Support is needed for a variety of information and training programs for schoolteachers, emergency response services, local officials, and media representatives, and for educational activities with the population at large, particularly for emergency preparedness and evacuation training.
There is no need to stress to you that the work of the Legacy Programme has taken on new urgency since the recent terrorist attacks around the world, and constant terrorist threats to obtain and use nuclear, chemical, and biological weapons in future attacks. I would warmly welcome Italy joining the other Global Partnership members who currently support the Green Cross Legacy Programme.

International Campaign for a Global Framework Convention on the Right to Water
Green Cross International and a group of partners have responded to calls from citizens, experts and officials around the world to launch a global public campaign for the adoption of a Global Framework Convention on the Right to Water. There is currently no international legally binding tool dedicated to protecting people's rights to the water they need to survive. In the meantime, millions continue to suffer and die as a direct result of these rights being denied. Clearly, a breakthrough is needed. Green Cross and its partners believe that a binding Convention could provide just such a breakthrough and has launched a worldwide campaign calling for its adoption, to which thousands of people have already pledged their support.
Elevating the Right to Water to the status of an international, legally-binding Convention would prioritise the water needed for the well-being of all people and the health of natural ecosystems in economic policies and development agendas. A Global Convention would ensure that water becomes a powerful source of cooperation rather than remaining a latent cause of conflict between communities and even countries.
I presented this campaign in person at the United Nations in April this year, and was heartened by the interest expressed by many governments. The Right to Water is already included within the constitutions of several countries, and there is a growing international discourse to confirm at the highest level and in the strongest terms that access to safe water is not a privilege, it's a right!
Green Cross Italy has been actively promoting this campaign for a Global Convention on the Right to Water amongst citizens and local authorities in Italy and has been met by a very positive response. I sincerely hope that Italy will join the growing ranks of nations that support the global recognition and legally binding protection of this most vital human right. I would be grateful if you designated a focal point in your administration, with whom Green Cross International and Green Cross Italy could follow up this effort. On our end, we shall regularly inform you on the progress of the campaign.

Mikhail Gorbachev
Chairman of the Board, Green Cross International